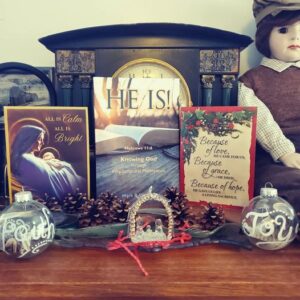 Christmas Gift -- Tis the Season!
In celebration of the Christmas Season and New Year's Day, I am giving away the PDF version of "HE IS!" to those who share their email address with He Is Ministries so I can add you to our mailing list (I don't share email addresses with others, and I won't start spamming you).  I hope to send out a newsletter no more than once a month in 2023.
For your consideration
If you have chosen to read "HE IS!" as part of your quite time with God in the year to come, I encourage you to read the introduction where I suggest a slow read of one chapter a week in point 3:
An important routine: We are encouraged in scripture to be
still and know that God is God. Find a time that works for you
to read a chapter at the beginning of the week. Prayerfully ask
God to reveal himself to you in a more intimate way as you think
about each He is statement throughout the week. Think and
respond to the reflection questions as you read the suggested
meditation passages. Reread the chapter at the end of the week.
Only God knows what you will learn about him and yourself in
one year. Share what you are learning about God with someone
else.
The Journey of 2022
Publishing my first devotional book in 2022 has been a big learning experience. I still have much to learn and hope to start working on some more devotional books to offer in the future.  What type of devotional books do you like to read and find most helpful?  You can contact me by clicking here to leave a message.   Please contact me as well if you have any questions regarding the devotional meditations. I will respond as I am able and as soon as possible.
I would love to hear your testimony
If you would like to leave a testimony of how a God is statement or particular chapter has ministered to you, I welcome you to do so by going to the Leave a Testimony page.
"HE IS!" on social media and on Amazon
If HE IS! has blessed you, will you consider following and supporting this devotional meditation on social media on Facebook and Instagram?   Also, a brief review at Amazon could really help someone else make the choice to begin the Hebrews 11:6 adventure for themselves in 2023.
Hopes for 2023 for the Hebrews 11:6 adventure
My hope and prayer are that God will be glorified in our minds and lives as we seek Him this coming year by beginning or continuing the Hebrews 11:6 adventure because HE IS!
"But without faith it is impossible to please Him:
for he who comes to God must believe that He is,
and that He is a rewarder of those who diligently seek Him."
—Hebrews 11: 6 (NKJV; emphasis added)